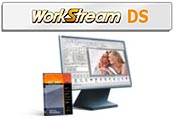 FREE to all SKP Photo and Imaging Lab Clients, Workstream DS is a powerful studio work flow program. Industry Lab giants have used this software for years to handle their production needs, and now you can too! Go to our Downloads page to get it now.


Use WorkStream DS's powerful tools to customize your images, then send them to SKP with your exact settings!




Embed logos and watermarks, create custom templates for compositing, or build packages!




We understand that you have many choices in choosing a photo lab to process and print your pictures. We at SKP Photo & Imaging Lab pride ourselves on providing superior quality photo & imaging solutions at competitive pricing so that you can share your memories for years to come.

With our state-of-the-art equipment and WorkStream DS software, we have made it easy for everyone from the amateur to the professional photographer to print top-quality photos with ease.

SKP Photo & Imaging Lab is located in Willoughby, Ohio and is owned and operated by Ron Kotar and Robert Kunesh as a division of Studio K Photography Inc.


Heirloom Portrait Guarantee Program
Photos are only taken for one reason - for looking back at life's cherished moments. SKP Photo & Imaging Lab utilizes Fujicolor Crystal Archive Professional Portrait paper so that your photos will stand the test of time. Fujicolor Crystal Archive Professional Portrait Paper has been carefully crafted for the longest life when displayed on the walls of your favorite room. Not only will your prints be enjoyed for a lifetime, they will retain the color and texture of the events as you remember them! We are proud to offer the FUJIFILM HEIRLOOM PORTRAIT GUARANTEE.